by Bruce Goldwell (Author), Lace Brunsden (Editor)
About Dragon Keepers
Goldwell's dragon fantasy book series, Dragon Keepers, can be considered a prelude for young readers before reading the Harry Potter series. This urban dragon fantasy series is imaginative, and adventure-filled.
Dragon Keepers is a fantasy adventure series by Bruce Goldwell whose main character is Merlin the Wizard. It is written in third-person narrative. The narrative is about the fantasy life of Merlin which includes dragons, fairies, mermaids, unicorns, and other fantasy creatures popular in mythology around the world. While the story uses aspects of Arthurian legend, much of the story is based on fantasy characters and events made up by the author.
"The author has a very wise intention for choosing the fantasy world, a fantasy genre illustrates a gateway to stories and imagination that is beyond the narrow convention of this known world. The dragon fantasy book series will certainly allow the readers to escape from the reality and get back to the world of mystery. Through the characters, readers often find crisis, inequality, pain, and loss, those issues are valid and challenging ones that we are confronted with in our real world, whether as individuals or socially. More importantly, using the fantasy world, the author tries to engage more connectivity with those issues and instruct how to avoid them in a realistic setting." - The Ritz Herald, Article April 2022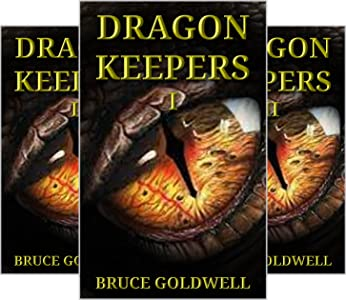 Dragon Keepers - click here
5 Star Reviews
Howard Lipman

Bruce Goldwell creates a world of mists and dragons beyond space and time...a world of the imagination. Merlin and Aeem become real to us...we feel their emotions, experience their visions."Never see another as being less than you..." There's wisdom here from an author who really knows how to tell a story...more wisdom in the first few pages than is found in most books today.'The Last Unicorn' is a tale that is a fresh breath of air, a misty breeze from beyond the Lake. The action moves as swiftly as the winged horses that Bruce conjures up. A delightful, thoughtful read...a portal to another world where fairies, a unicorn, and other delights await the reader. (Reviewed by PanOrpheus- Howard Lipman)

V. Kimball

It is not an easy task to break into a young readers imagination successfully. The Dragon Keepers series has the right combination to break in to the readers minds and leave a lasting impression; adventure from the get go with well thought out provoked sense of urgency and suspense by the authors word choices, well defined description of the whimsical environments and the characters within them. Once again, the adventure runs high with the story line following Merlin and his companions. Definitely one for the bookshelf of a young reader ready for suspense and adventure!
More Dragon Keepers Books