Goldwell's first book, Mastery of Abundant Living, is a self help book for adults but is also an excellent book for anyone looking for help with self-improvement, personal and professional goals, health and fitness, and more. The book is written in a very clear and concise manner so as to be easy to read and understood.
Goldwell's self-help books are highly recommended by those who have read them. Goldwell is pleased with the reviews posted by his readers and thankful that he has been able to provide valuable insight to his readers.
The following are Goldwell's self help books and fantasy book series for kids, teen, and tweens.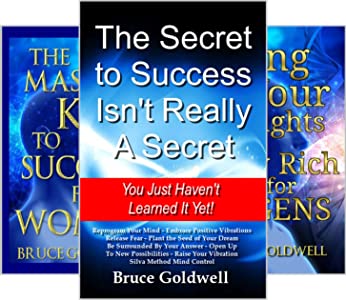 BUY 4 BOOKS WITH ONE CLICK - CLICK IMAGE ABOVE

#####################################################

HOVER IMAGES BELOW FOR COMPLETE TITLE
SELF-HELP BOOKS FOR ADULTS

Three Minutes Book Series

Mastery of
Abundant
Living 3 Book
Bundle
Coming
Soon!

Law of Attraction Books

Fantasy Book Series for Teens and YA

If you're looking for the next great epic fantasy series for your young reader, look no further than the Dragon Keepers series and Starfighters: Defending Earth, by Bruce Goldwell. The books are both epic series, and they're sure to grip your young reader's attention from the very first page. Each book of the Dragon Keepers series focuses on a different protagonist as Merlin, the main character of the series grows in wisdom, courage, and knowledge. Starfighters Defending Earth is the first book of the 3 book Starfighters series. You'll find adventure, suspense, and tons of twists and turns as you read these books.

Dragon Keepers Book Series

Books for Kids

ALTERNATIVE HEALTH BOOKS FOR ADULTS
FANTASY ADVENTURE BOOKS FOR KIDS
Hadley's Mountain Top Valley: A Short Story Adventure Book for Boys and Girls (Kids 8-12)
If you are looking for a short but fun fantasy story for your kids to enjoy, Hadley's Mountain Top Valley is the perfect one for you. This story features three boys who live on a mountain top and have an unexpected romance when a stranger drops in on them.

Take a journey with three boys who have been self-sufficient on Hadley Mountain for years. Losing their parents, they are being cared for by each other and the little resources available when one day an unexpected visitor literally drops in on them from out of nowhere and changes everything about their lives forever!

Includes over a dozen Illustrations by Aleksandra Hammer


A Trip to Grandma and Grandpa's House
We all have memories of visiting grandma and grandpa's house. With this coloring book kids can memorialize their visit to have as a keepsake years into the future. Things like making cookies with Grandma, watching TV with Grandpa, helping on the garden, jumping on grandma and grandpa's bed and much more. And fun activities for children to complete to help them remember their visit in a personal way. Be sure to get enough copies for each grand child to complete.